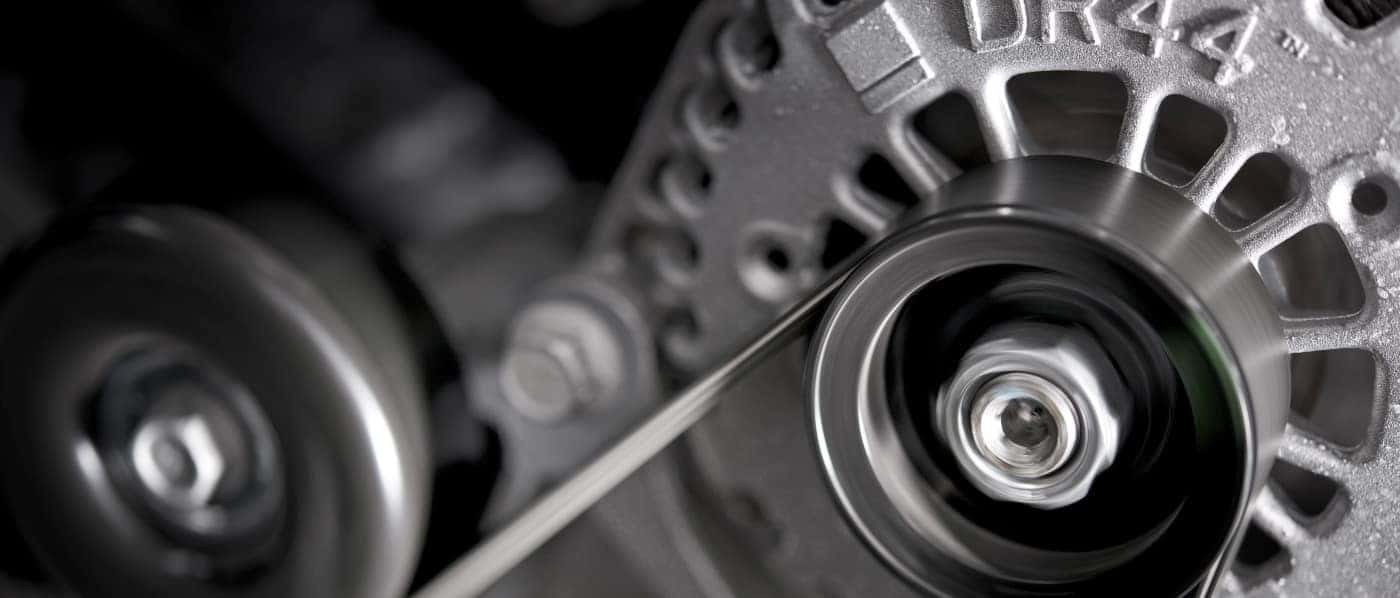 Many Roseville area drivers have pondered what exactly an alternator does in their car. Well here at the Sacramento Chrysler Dodge Jeep Ram service center, we're here to help answer that question for you! In fact, we're here to help you with all your vehicle service and repair needs. But if you're wondering what an alternator does now, here's the answer. A vehicle's alternator sends power to its electrical system when the vehicle is running. It isn't the battery that supplies power to a car, it's primarily used to start the car. The alternator, on the other hand, generates power using the gas engine as its energy source.
Learn the Symptoms of an Alternator Gone Bad
Worried your alternator is on the fritz? We're not just here to tell you how much an alternator is or what it does, we also want to help you diagnose common alternator issues. If you're noticing any of these symptoms, contact the Sacramento Chrysler Dodge Jeep Ram service center or visit us near Folsom:
Burning rubber smell under the hood
Battery warning light appearing on the dashboard
Devices not charging
Whining or screeching sound after the vehicle has started
Dim headlights or interior lights
Inability to start
What Does an Alternator Do When It Breaks vs. a Battery?
It's not uncommon for Roseville drivers to mistake a bad alternator for a bad battery. The best way to identify which part is causing your vehicle's mechanical issues is to wait until you need a jump-start. After you jump-start the engine, remove the jumper cables. If the vehicle dies immediately, the problem is most likely to be your alternator. The inverse is true if it stays on. Want to have a certified technician take a look? Schedule service todayatSacramento Chrysler Dodge Jeep Ram near Folsom.
How Long Does an Alternator Last?
A majority of alternators last between 80,000 to 150,000 miles — or roughly seven years. However, these factors can cause your alternator to wear out sooner than that:
Alternator quality
Driving conditions
Power drain on the alternator
How Much Will it Cost to Replace My Car's Alternator?
Every car is different, so it's hard to say exactly how much parts and labor for your alternator repair will be. Different vehicles require different types of alternators. What's more, some require more labor than others. That said, we're happy to answer all your alternator cost questions here at Sacramento Chrysler Dodge Jeep Ram. You can give us a call to request a free quote at (916) 229-8900. We carry alternators that were designed to work with your vehicle in mind. What's more, we have the experience required to install your next alternator right the first time!
Visit Sacramento Chrysler Dodge Jeep Ram for a New Alternator
If you plan to do a DIY alternator repair, don't hesitate to check our parts department at Sacramento Chrysler Dodge Jeep Ram. Prefer to have your next alternator installed by the professionals at our service center? You can easily schedule alternator service online! Either way, contact us with any questions or stop by our service center near Elk Grove and Rocklin!